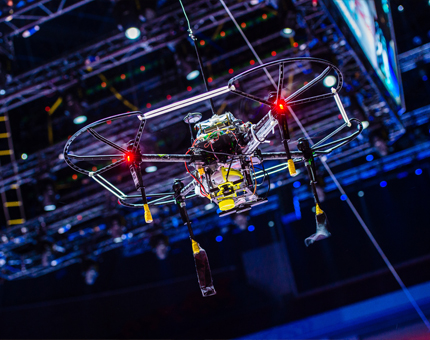 Summer/Winter Camp for High School Students
RoboMaster Summer/Winter Camp for High School Students, is hosted by DJI in an attempt to promote robotics education to younger students so that more students can benefit from advanced talent concepts and intelligent technology from an early age. The Summer/Winter Camp for High School Students focuses on robots and offers practical learning in relevant fields so that high school students can practice what they have learned in books and develop innovative thinking. In the Summer/Winter Camp, DJI also invites outstanding engineers, famous experts, and excellent students from around the world to share their industrial knowledge and expertise on cutting-edge technology. In addition, DJI cooperates with top domestic and overseas universities to provide beneficial recruitment assistance for outstanding students.The RoboMaster summer camp is held in July or August, and winter camp is in January or February every year at DJI RoboMaster R&D Center.
RoboMaster 2018 winter camp documentary
This camp was divided into two segments. In the first stage, students needed to design fully functional Standard robots and use them to compete in a first-person shooting competition. In the Second stage, they were required to optimize robot movement algorithms to allow robots to move freely through a course with different conditions, as well as equip their robots to complete specific tasks along the way.
2017 Summer Camp for High School Students
Students who attended the High School Summer Camp experienced the life of a robotics engineer. After learning the essential principles of robot design, students began a project of building their own machine for competition. The rules were simple: their robot must recognize and avoid obstacles in a field while finding and picking up target objects.
Summer camp opening ceremony

Research Demonstration from PhD Candidate of HKUST

Outdoor academic tutorial

Robot debugging

Control the robot to grab the obstacle

Robot Competition
2017 Winter Camp for High School Students
High school students were required to assemble fully autonomous Standard robots, programming them with visual recognition and image acquisition. In a test of these requirements, their robots were tasked to activate a Power Rune by accurately hitting figures in a 3×3 rectangular grid.
High School Students Visiting Hong Kong University of Science and Technology

High School Students Assembling Robots

Tuning Robots Before the Competition

Hit Large Runes
2016 Summer Camp for High School Students
High school students were divided into pairs to modify Standard robots. They work together to write the necessary code for and control the robots, as well as design mechanical arms to grasping dolls of different shapes, 17mm projectiles, and golf balls to finish specified tasks in within 10 minutes.