COMPETITION DESCRIPTION
RoboMaster is a robotics competition designed to pit university students against each other in the ultimate battle of engineering, strategy, and teamwork. The main event ,RoboMaster FPV Competition,requires teams to develop and operate six robots that launch projectiles at opponent in order to deduct Hit Points. RoboMaster also includes ICRA AI Challenge, in which teams develop AI robots to complete assigned tasks independently. The RoboMaster season includes Chinese and International Regionals, a Wild Card Competition, and the Final Tournament. Regionals advance top teams to the Final, while the Wild Card gives universities a chance to earn four remaining spots. In July 2018, Shenzhen, China — DJI and RoboMaster global headquarters — will host the RoboMaster Final Tournament, where 32 teams will battle for the championship.In addition to the overall winner of the RoboMaster season, a number of other awards will be given, such as honors for outstanding individuals and teams.
Schedule
May 2018Chinese Regionals

Domestic teams will compete in major cities across Mainland China to qualify for the Final Tournament.

July 2018International Regionals

Teams from Hong Kong, Macao, Taiwan and teams around the world will have their chance to earn a spot in the Finals.

July 2018Wild Card Round

Top teams who did not initially qualify during the Chinese or International Regionals will compete over the four remaining Finals spots.

July 2018Final Tournament

The final 32 teams from around the world will battle hand-to-hand for the championship in Shenzhen, China — DJI and RoboMaster global headquarters .
May 2018ICRA AI Challenge

Brisbane,AustraliaIndividual Rewards
Battle Overview
ROBOMASTER 2018

VS

ICRA 2018 DJI RoboMaster AI Challenge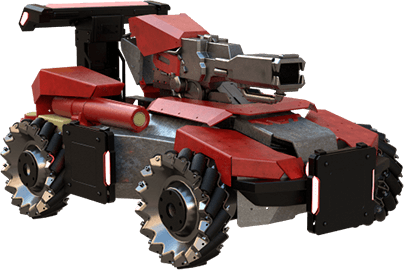 AI RobotX2
Prizes
Champion's Prize

USD$75000

Second Prize

USD$45000

Third Prize

USD$15000