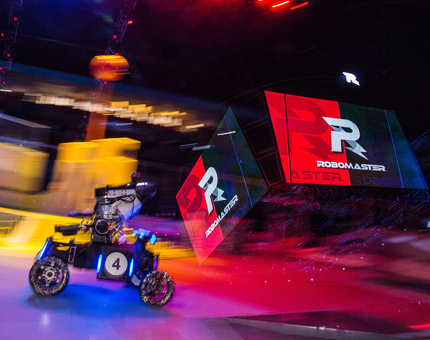 Summer camp
The RoboMaster Summer Camp is a summer science-fiction activity tailored by DJI for college students majoring in science and engineering, as well as robot fans. After rounds of selection, college students come to the summer camp to challenge the one-month robot R&D project. Three summer camps have been successfully held since 2013, respectively themed "autonomous mobile shooting", "steel strike" and "autonomous bomb dropping during flight".
2018 Summer camp
The full automation era. The campers were required to create a fully automated robot. Through all-round perception of the competition area, robots achieved autonomous navigation and decision making, automatic obstacle avoidance, automatic projectile container grabbing and supply, motion planning and shooting.
暂无数据

2017 Summer camp
The RoboMaster University Summer Camp introduced students to the world of artificial intelligence, with workshops held to develop engineering and robotics skills. Undergraduates were then organized into teams of ten and prepared fully-automated robots — an Aerial to scan the battlefield and acquire projectiles, which the Standard uses to shoot the opposing team's robot with computer vision.
Opening ceremony

Outdoor academic tutorial

Team discussion

Robot debugging

Autonomous aerial & ground robots' battle synergy

Self-designed robot exhibition

Banquet

2016 Summer camp
RoboMaster 2016 Summer Camp: Students had to design and operate automatic drones to catch objects and drop them in designated areas.
RoboMaster 2016 summer camp documentary

Students Making the Great Strength Bridge Structure

Summer Camp Opening

Students Visiting Hong Kong University of Science and Technology

2015 Summer Camp
In the summer of 2015, students organized in multiple groups and independently developed drones based on the M100, to challenge airstrike tasks.
RoboMaster 2015 summer camp documentary

RoboMaster 2015 summer camp highlights

Opening ceremony

Drone ready to catch the ball

Sudoku Score Zone

Ball Catching Zone

Concentric Circles Score Zone

2014 Summer Camp
2014 Summer Camp is an earlier incarnation of the RoboMaster Competition. The students operated their independently developed robots for a shooting showdown.
The World of Engineers

Group Outings

Robots

The Field

RoboMaster 2014 summer camp documentary:smart is new sexy

2013 Summer Camp
In the summer of 2013, 24 technology elites came to Shenzhen and challenged mobile shooting practices with DJI.
Members and DJI

A photograph of all the members

Discussion

Visit the HKUST Laboratory

Professor Li and Members

A photograph of all the members