Young Engineers Conference
ROBOMASTER
RoboMaster Young Engineers Conference brings together scholars, entrepreneurs, outstanding engineers and hundreds of players and professionals. The conference is an international exchange of ideas around innovation and focuses on maker-culture and the RoboMaster competition.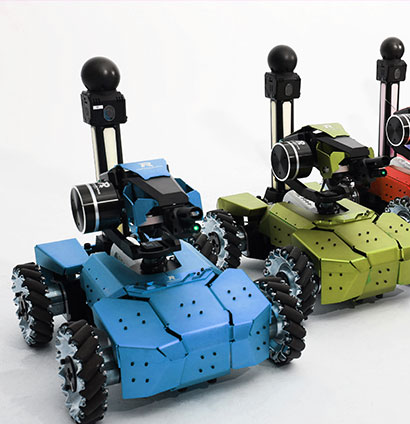 About the 2017 Young Engineers Conference
The 2017 Young Engineers Conference (hereinafter referred to as "YEC") consists of the Monthly YEC and Annual YEC. The Monthly YEC is held every month in prestigious universities across the country, offering technical know-how lectures given by famous professors and in-depth interactive sessions. The Annual YEC will be held in August in Shenzhen together with the RoboMaster Grand Final.
August 2017 — Young Engineers Conference (Shenzhen)

The final Young Engineer Conference coincided with the RoboMaster 2017 Final Tournament in Shenzhen. It provided more resources and opportunities for students and enthusiasts to participate in robotics, as well as to facilitate their exchange of innovations and find outstanding engineers.

April 2017 — Young Engineers Conference (Beijing)

This conference focused on the importance of sharing technology and ideas to spread innovation. RoboMaster invited three industry experts to lead workshops discussing robot technologies, deep learning, unmanned vehicles, and the cultivation of creative talent and entrepreneurial spirit.

March 2017 — Young Engineers Conference (Nanjing)

The first of three forums geared towards bringing together student roboticists and professionals, this conference included ice-breaking activities, an exchange of technologies, and an Interest Lab — a brainstorming session discussing artificial intelligence. Guest speakers shared their knowledge and experiences in robot competitions, team management, and competition rules.

December 2016 Young Engineers Conference (Xi'an)

On Christmas Day 2016, young engineers came together in Xi'an, not only for the conventional sharing session, but also for a new "Brainstorm Laboratory." In this new format, engineers were encouraged to challenge their current notions through collaborative innovation and a collision of ideas.

November 2016 Young Engineers Conference (Guangzhou)

In order to create a better knowledge sharing platform for young engineers, RoboMaster embarked on a national "Young Engineers Conference Tour" at the end of 2016.Several teams gathered in Guangzhou and exchanged ideas on the growth course of engineers. DJI product managers, competition organizers, and top participating teams all shared their ideas at this conference.

August 2016 Annual Young Engineers Conference

The RoboMaster Committee held the Young Engineers Conference after the Grand Final of RoboMaster 2016 in order to create a platform for university students to exhibit and exchange their technological innovations.The activities focused on robotics and relevant fields, with no limits on the content exchanged. This platform advocated interdisciplinary communication and the global sharing of knowledge and talent.

August 2015 Master's Night

With the close of RoboMaster 2015 Competition came an impressive dialogue between engineers. DJI's founder and CEO Frank Wang presented at Master's Night, sharing his understanding and expectations of RoboMaster with the young engineers.